Ground Metal & Mine Detectors
Hand-held equipment built to withstand harsh military environments
Ground Metal & Mine Detectors





---
High performance hand-held metal detection
Although primarily used for mine and explosives detection, ground search metal detectors can also be used to search for practically any metal or part-metal object that's near the surface, such as buried structures, missing persons or hidden entries.
Our first-choice ground search metal detector is the CEIA CMD, which is a combat proven performer with an excellent track record in reliability and detection capability.
At Tactical Solutions, we have spent many years creating a reputation for quality security & detection equipment.
We hold a world-class portfolio of brands that are true market leaders in this category.

Speak to one of our consultants about your screening requirements
Complete detection confidence
Rigorous product testing has resulted in equipment that's superior in detection distance, soil compensation capability and immunity to external interference.
​One-piece folding design, ergonomic operation, exclusive automatic soil compensation system, modern control unit.
Tactical Solutions have spent many years creating a reputation for supplying quality security & detection equipment. We hold a world class stable of brands that are true market leaders within this category.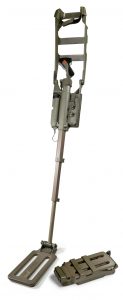 Effective Detection of all metal and minimum-metal content targets
Balanced, Lightweight design
One Piece Retractable design
Small packaging size
Accurate pin-pointing of the target's position indicated by acoustic modulation and maskable LED display
High discrimination capability for adjacent targets
Automatic Compensation for mineralized and high natural metal content soil
Integrated battery charger
Long-Lasting battery life
Extremely high level of electrical and mechanical reliability
Operation monitored by a microcomputercontrolled autodiagnostic system
Completely digital electronics, with in-field program memory upgrade capability
Ease of operation with minimum training time required
If you have any specific questions that you wish to ask Tactical Solutions
Ltd please contact directly or use the enquiry form provided.
Auckland Retail Store/Showroom and Head Office
7 Canaveral Drive
Albany 0632
Auckland
Wellington Retail Store/Showroom
NZ Campus of Innovation and Sport
Level 1, Block B, 30 Somme Road
Trentham, Upper Hutt, 5019
Brisbane
No retail store
3 Harrington Street, Arundel, QLD, 4214, Australia
P: +61 7 5619 5343
One of our consultants will get back to you shortly!
Proud Distributor and Partner of