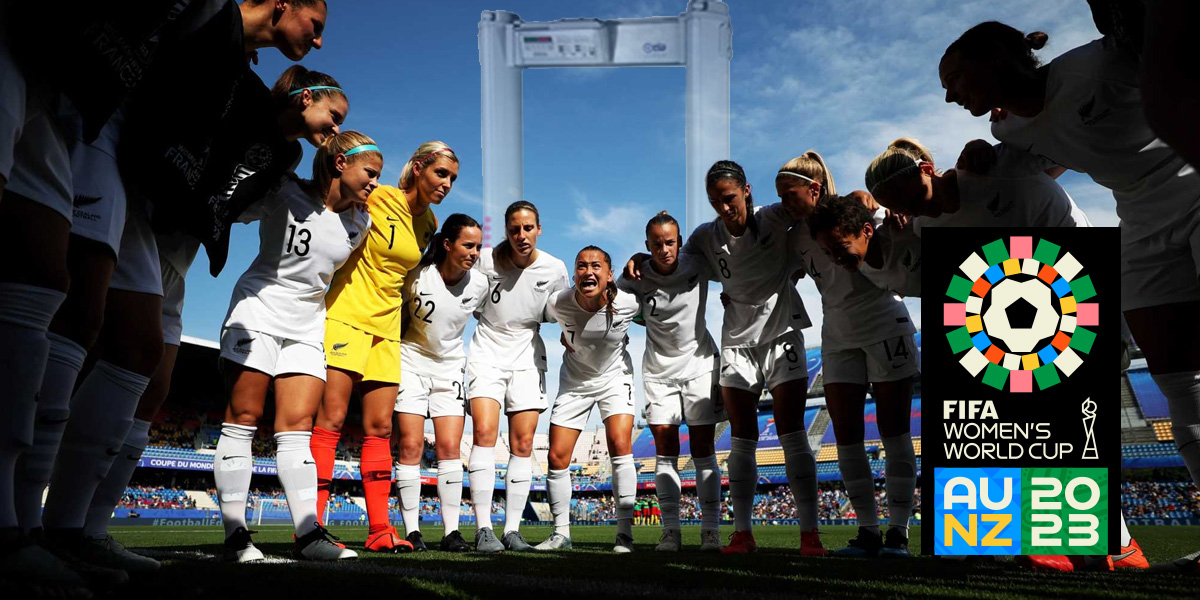 Securing a New Zealand FIFA World Cup Stadium
Published:
May 2022 | Tactical Solutions
The Women's FIFA World Cup Australia & New Zealand kicks off on 20 July 2023 and ends in 20 August 2023.
We wanted to know what it would take to secure such a big event, so we turned to our Service Department manager Mike Manders.
Mike has been with Tactical Solutions for almost 5 years now and has been at the forefront of providing and maintaining high-end detection equipment to safeguard New Zealand's borders and securing important installations around the country.
A big part of the service that Tactical Solutions supply is to scope out projects and build security solutions that will be best. Mike and his team are called on to do a full evaluation of the premisses and give advice on what would be the best way to safeguard the venue.
Mike explained that the security at all those sporting events shared the same level security, except for in India, Beijing and Athens. The countries were at a higher threat level and there were a few extra precautions in place.
"At the Indian Games we had the Indian SAS outside our hotel with a machine gun on the road. Because of the terrorist activities at the time. Vehicles going into venues were going over under vehicle detection units to make sure that there were no explosives attached to the bottom of them."
"At the 2008 Beijing Olympics at the entrance of the IBC (international Broadcasting Centre) they put a tank outside.
They didn't get the reaction that they had expected because everyone was lining up at the tank to take selfies."
At the 2004 Athens games they had Patriot Missiles outside the Games because of the problems in Cypress at that time. The event organisers spent a massive $1.5 billion on security to keep everyone safe.
Patriot advanced capability (PAC-3) missile
The PAC-3 missile has increased effectiveness against tactical ballistic and cruise missiles through the use of advanced hit-to-kill technology.
Lockheed Martin is the primary contractor, with Raytheon as the systems integrator. The PAC-3 has a Ka-band millimetre wave seeker developed by Boeing.
For more information visit: Army-Technology: Patriot Missile Long-Range Air-Defence System.
Pictured:  The Patriot missile system was deployed by the US during Operation DEsert Storm. Credit Ms. Kari Hawkins (AMCOM)
What was the security like at the Games?
The organisers always went to great lengths to make sure that everyone was safe at the games.
"Most of the events that I went to have had the same high-level throughout all their venues."
"Just one venue had 8 x-ray machines and full search stations at all points, including the VIP entrances."
It can become expensive for a hosting company to buy all the equipment, so the common practise is to purchase the equipment for the event and then on-sell it on to other entities afterwards.
"With the cost of the equipment alone, I wouldn't be surprised if the FIFA organising committee has some of their own equipment that they ship to the different countries during the time of the events."
It would also depend on the risk of the country at the time of the event and whether they have different tiers of security.
Do we currently have adequate security at our New Zealand stadiums?
FIFA would insist on having the same level of security at each venue during their events, so we will be seeing some upgrades to our stadium security leading up to and during the event.
What procedures will FIFA take to secure the New Zealand stadiums?
FIFA has their own risk assessors and security experts that will look at a couple of factors and would run their own scenarios and assessments.
The more important the game, the higher attention will be given to security because you will have a lot more dignitaries and more fans watching those.
The two quarter final games at Auckland's Eden Park and Wellington Regional Stadium will receive a big boost in security. The World Cup semi-final game and the first game and opening ceremony at Eden Park will receive even more attention.
Their main goal will be to get people into the venue without too much hinderance and they will try to not spoil the atmosphere with lengthy search stations.
FIFA will more than likely be looking at security solutions that will be able to Inspects people very quickly without the need for much queueing or divestment.
They will also put a big focus on having well-trained professional security personal at the checkpoints to keep things flowing smoothly.
How would we secure the FIFA women's World Cup stadiums?
Mike suggested full search stations at every entrance at a minimum.
For the VIP entrances the same setup would apply with the walkthroughs, X-ray machines and security personnel screening guests.
The FIFA committee might not feel that they need to go to the extent of Body Worn Cameras because there are a lot of cameras that will be watching the crowds. Most major events have about 16 high-end TV cameras and for a final you would be looking at a lot more.
However, most of the attention will be focused on the crowds and generally one quarter of the stadium, where the VIPs and the press sit, won't get too much camera coverage.
This would be a good opportunity to give some of the security personal working those areas some live streaming cameras to give the control room an on-the ground view of what's happening.
Most stadiums have security camera systems outside the stadium, so the checkpoints should be covered, from a distance. It would be good to have security officers at checkpoints wearing live streaming body cams so the control room can see and hear what's happening in real-time.
Mike did have two great stories about the lengths that host nations go to promote their events.
Don't take any photos of the checkpoint
A famous yachting commentator was in Athens covering Olympic sailing and whenever he went through the checkpoint system it would alarm. So, one of his colleagues took a picture of him going through the checkpoint.
The Checkpoint was run by the Greek Navy and they did not like it too much. They detained him and took him for a 4-hour chat behind closed doors and the IOC had to step in to help him get out in the end.
They were so serious with the security that they had dive squads and gunboats protecting the courses.
There were two Zeppelins, one at the yachting center and one cruising over the main stadiums keeping an eye on events. It was amazing to see the extent that they went to with their security.
Lights out at Guangzhou Asian Games
At the 2010 Asian Games in Guangzhou at the opening ceremony which was under the Guangzhou tower they had control of all the lights in the whole delta. They must have had between 8 to 12 full dress rehearsals and all the residents got to see them so that they didn't mind they were dropped into darkness during the event.
At the Aquatic Delta, they dropped the whole floor down to create a deep diving pool and there were fountains everywhere.
The Guangzhou tower which is twice the height of your Sky Tower over 600 meters tall, had fireworks going all the way around that.
It was all extremely impressive and a good show of how far a host nation will go to promote the event.
Opening Ceremony of the Guangzhou 2010 Asian Games, China
We look forward to watching the Football Ferns in action and seeing how the security turns out for the events.
If you have any questions about event security contact us below.
Venues for the 2023 FIFA Women's World Cup in New Zealand
Auckland / Tamaki Makaurau
Eden Park
Capacity: 48,276
The iconic Eden Park, which has been the spiritual home of New Zealand sport for over a century now has hosted many memorable moments including one in 2011 when it was used as host to both The Rugby World Cup Final and A League matches between Wellington Phoenix.
It's also seen major cricket matches along with various other sporting events such as football (soccer) games played here by Auckland City FC since they were founded back in the late 1800s
Matches played at Eden Park
Knockout Stage
1A vs 2C
5 Aug 2023 
Group Stage
Wellington / Te Whanganui-a-Tara
Wellington Regional Stadium
Capacity: 39,000
The Wellington Regional Stadium is the home of New Zealand soccer and a key part of the country's football history. The stadium has hosted numerous major matches, including the FIFA World Cup, FIFA U-20 World Cup, and FIFA U-17 Women's World Cup. It is also a short walk from Wellington's city centre and transport hub.
Matches played at Eden Park
Knockout Stage (Round of 16)
1C vs 2A
5 Aug 2023 
Group Stage
Dunedin / Ōtepoti
Dunedin Stadium
Capacity: 28,744
New Zealand's only covered stadium, Dunedin Stadium is an iconic landmark in the city of Dunedin. Known by locals as "The Glasshouse", this striking stadium has become a major venue for sporting events and concerts since it opened in 2012.
Home to numerous major international concerts, rugby union matches, and even rugby league games, Dunedin Stadium has earned a reputation as one of New Zealand's top sports venues. It also played host to several matches during the 2015 FIFA U-20 World Cup, and hosted its first FIFA World Cup qualifier in 2017 when New Zealand faced New Caledonia. Whether you're a fan of soccer or just enjoy attending exciting sporting events, Dunedin Stadium is definitely worth checking out!
Matches played at Dunedin Stadium
Group Stage
A3 vs A4
21 July 2023
E3 vs E4
23 July 2023
C4 vs C2
26 July 2023
G4 vs G2
28 July 2023
A4 vs A1
30 July 2023
E2 vs E3
1 August 2023
More information about Dunedin Stadium
Hamilton / Kirikiriroa
Waikato Stadium
Capacity: 25,111
Waikato Stadium is a popular venue for football games in New Zealand, having hosted the FIFA U-17 Women's World Cup in 2008 and the FIFA U-20 World Cup in 2015. Located just a short walk from Hamilton's city centre, Waikato Stadium is an ideal location for football fans looking to enjoy a game of soccer. Whether you're a seasoned soccer enthusiast or new to the sport, Waikato Stadium has something for everyone.
Matches played at Waikato Stadium
Group Stage
C3 vs C4
22 July 2023
A4 vs A2
25 July 2023
E4 vs E2
27 July 2023
C2 vs C3
31 July 2023
G4 vs G1
2 August 2023
More information about Waikato Stadium
If you have any specific questions that you wish to ask Tactical Solutions
Ltd please contact directly or use the enquiry form provided.
Auckland Retail Store/Showroom and Head Office
7 Canaveral Drive
Albany 0632
Auckland
Wellington Retail Store/Showroom
NZ Campus of Innovation and Sport
Level 1, Block B, 30 Somme Road
Trentham, Upper Hutt, 5019
Brisbane
No retail store
3 Harrington Street, Arundel, QLD, 4214, Australia
P: +61 7 5619 5343
One of our consultants will get back to you shortly!