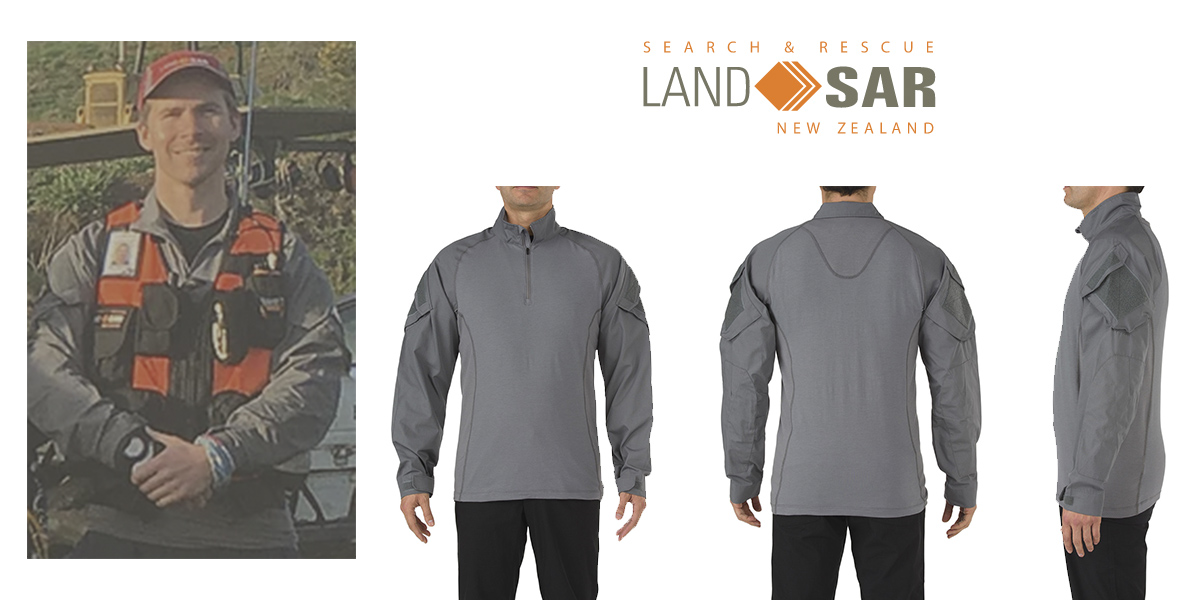 The Rapid Assault of Auckland Land Search & Rescue
Published: April 11 2019 | Tactical Solutions
Why the 5.11 Rapid Assault Shirt?
Gordon Bailey – operational tracker, training manager & committee member of Auckland Land Search & Rescue – gives an operator view on the Rapid Assault shirt.
Pictured: An Auckland Land search & Rescue team member with his Sleeves down in late winter/early spring.
We have been using the 5.11 Rapid Assault shirt for about a year now, and it has stood up to the different types of environments we operate in.

Our Search & Rescue operators work in:
Urban
Semi-Rural
Rural
Pine & Native forest
Scrub
Coastal
We use these shirts because of the material used, and the ability to have the sleeves up or down, the Velcro tabs on the cuffs make them easy to do up when wearing gloves. The rip-stop cotton on the sleeves are great for protection against cutty grass (elephant grass), gauss & blackberry.
Shoulders are hard wearing, so good for pack carrying, and the collar gives protection from the Sun. Quarter zip helps with venting in the hot weather.

The shirts is a tight fit, but we find getting the next size up helps, the arms are quite long, but with the Velcro cuff they do up well and don't slide down. The pockets are handy, and the Velcro patch means we can have Velcro reflective patches on each arm, and team leader Identifiers.
These shirts fit well under our SAR vests, and work well all year round.

Regards
Gordon Bailey
Operational tracker, Training manager, & Committee Member.
Auckland Land Search & Rescue